2021 Skin Kissed Pinot Gris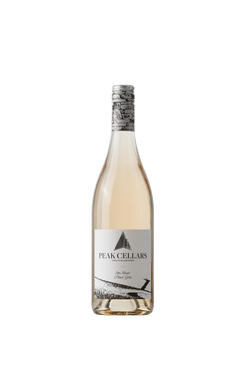 The highly anticipated 2021 release is full of orchard fruits with a candied twist: red apple, nectarine, firm (underripe) white peach, with notes of cotton candy, Swedish berries, strawberry nibs, and confectioner's sugar. There is also the minerality of a steaming wet rock that pulls your 'candy high' back down to earth. On the palate there is a fast attack of lemon-lime and a very slight effervescence, followed by juicy grapefruit, underripe white peach, hints of fresh white pepper and the delicate texture of gently steeped chamomile or fruit tea, creating a soft, smooth, long finish. Don't overchill this wine – it would be a shame to mask all of the delicious fruit!
A whimsical expression of Pinot Gris, we want to showcase that this variety actually has purple pigmented skins, which provide a different expression of character as well as some texture. The whole clusters were left to soak overnight in the press (approximately 16 hours), slowly pressing out under their own weight to burst some skins and extract a bit of colour. We pressed the next morning using a gentle sparkling wine program, to give it just a delicate kiss from the skins.
This is an extreemely versatile wine and makes the sometimes daunting task of pairing wine with food very easy because it will pair with almost anything. That being said, definitely try a variety of fish: credar plank or smoked salmon, ling cod, sable fish or other oily fish. A traditional shrimp boil or some Korean BBQ are also great choices. Like pizza? Try an apple, brie and oulled pork 'za!
2022 WineAlign National Wine Awards of Canada: Silver
Wine Specs
Appellation
Carr's Landing Vineyard
Product Reviews